list of tax havens
oecd's official grey list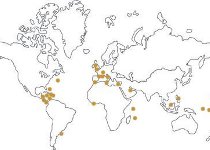 There is no unified list of tax havens, as each country, entity or organization has its own criteria for evaluation, often with a significant degree of subjectivity.
The one best known is the classification made by the OECD, which stands for Organization for Economic Cooperation and Development, which we reproduce below.
The list was compiled for the first time in June 2000 and has been updated several times. The version presented here corresponds to May 18th, 2012.
List of tax havens according to the OECD
There have been many changes in comparison with the first list compiled in 2000. First, Cyprus, Malta, Mauritius and Seychelles were removed from the list. The last two countries are two very popular offshore jurisdictions and their exclusion was at least surprising.
During 2009, the OECD redoubled its pressure on the territories included in the so-called "grey list", which are considered as not having adequately implemented the standards of fiscal transparency. A minimum of 12 signed TIEA's (tax information exchange agreements) or DTA's (double tax agreements) were required to take a territory out off the list of tax havens. Many countries have committed to this since then and some of the most traditional jurisdictions such as Gibraltar, Monaco, Liechtenstein, Guernsey, Jersey, Isle of Man and San Marino have been able to leave the "grey list." So have Cayman Islands, British Virgin Islands (BVI), Turks and Caicos, Antigua and Barbuda, Belize, Bahamas and Samoa, among others, and more recently, Panama.
The OECD has also created a group called "Other Financial Centers" which on May 18th, 2012 only included Guatemala.
We would like to point out that this list of tax havens cannot be considered as exhaustive, neither is it entirely objective in our opinion. There are many other jurisdictions with similar tax benefits or with privacy or bank secrecy laws even superior to those of traditional tax havens. We have therefore prepared an alternative list of offshore financial centres.